大功率可编程直流电源产品
数以万计的公司(从初创公司到财富500强企业)将强大的电源处理拓扑与先进的垂直整合的美国制造相结合,依靠Magna-Power的高质量可编程DC产品来推动其创新。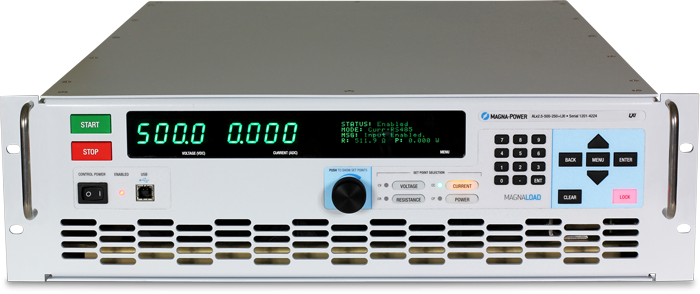 可编程直流电源
利用坚固耐用的电流馈送电源处理拓扑,范围从1.5 kW到3,000 kW +的500多种型号以及众多标准选项,Magna-Power提供了业界范围最广的可编程直流电源之一。
超过10,000种可用产品配置
建造时间从2-3周开始
SCPI命令API,NI LabVIEW驱动程序,IVI驱动程序
隔离的37引脚外部用户I / O标准,易于进行PLC集成
提供高电压和高电流型号
直流电子负载
麦格纳动力提供传统的线性拓扑和获得专利的有源电阻技术,为1.25 kW至20 kW +的大功率电子负载定义了新的成本点,提供了独特的控制模式和高达50的高度可靠的连续全功率运行 ℃。
MagnaLINK™分布式DSP控制架构
型号高达1,000 Vdc和高达4,800 Adc
具有多达6种不同控制模式的16位高精度
提供大功率风冷或水冷型号
SCPI命令API,LabVIEW驱动程序,IVI驱动程序
为什么选择Magna-Power
技术和可靠性驱动的电力电子设计方法
统一产品平台
Magna-Power精心设计的控件可在整个产品系列中实现一致的固件,计算机命令,功能,选件和用户I / O,因此您可以根据产品需求的变化花费更少的时间来适应软件和控件。
广泛的编程支持
在运行快速编程麦格纳功耗产品起床,使用包括麦格纳功耗的软件,提供了NI LabVIEW和IVI驱动程序,或者在您所选择的语言中使用支持SCPI命令的丰富的图书馆,就像我们喜欢:Python.
快速的构建时间
通过一站式控制制造过程,并在库存的通用装配上进行大量投资,麦格纳动力提供行业领先的最常用产品按订单制造时间为2-3周。
灵活的选项和附加组件
Magna-Power致力于为大功率可编程直流电源和电子负载应用提供一流的支持。 自1981年以来,Magna-Power在英国和中国设有销售办事处,在超过45个国家/地区设有合作伙伴,并拥有40个北美代表网络,在不断扩大其世界一流的销售,服务和集成渠道网络的同时,其业务不断发展 生产线。
从1.25 kW到25 kW的大多数产品的构建时间
Mason S.
GE Aviation
We were very impressed by what we saw while visiting yesterday ... the organization and cleanliness of your facility was an apparent statement to back up the emphasis on quality products.
Marcelo S.
Colorado School of Mines
I have two Magna-Power supplies in my lab. I love them: reliable, precise, wonderful equipment.
Amin S.
University of Houston
High quality products from Magna-Power! I worked with different manufacturer's power supplies and faced different problems (e.g. EMI noise), but no problem with Magna-Power.
Hanan F.
Alencon Systems
Your service is really fantastic. Beyond just being a vendor of great products we use every day, we really look up to Magna-Power as the gold standard of a domestic power electronics manufacturer and we are striving to emulate your commitment to operational excellence and commercial success in our own business.
Adam S.
Blue Robotics
Thank you and your team for your excellent service and providing an outstanding product. All my questions were answered thoughtfully, and we had full confidence in our purchase. The power supply has been performing excellently, handling all the loads we've been throwing at it without so much as a hiccup.
Matt H.
The George Washington University
I'm so used to some of our other equipment taking a month or two to get sorted out, so it's a nice change of pace when this gets done so quickly.
Paul K.
Lockheed Martin
To do what Magna-Power does with one power supply, we would've needed three from the other guys. On top of that, Magna-Power was less expensive, so the bang for buck and size was excellent.
Tom S.
QinetiQ
Below is the scope capture from the XR connected directly in place of the Sorensen. We were amazed! ... I am impressed with the build quality of the unit, chalk one up for Made in the USA!
垂直整合的美国设计和制造
麦格纳电力电子产品在美国新泽西州弗莱明顿的垂直整合总部自豪地在美国生产。 所有工程,制造和北美产品服务均在公司总部进行。
麦格纳电力电子在其制造过程中利用垂直集成来完全控制产品质量,成本和交货时间。 垂直集成使Magna-Power能够制造种类繁多的复杂电子产品,同时仍保持行业领先的交货时间。 在同一设施中的房屋工程和制造团队会迫使两个团队之间进行强有力的协作,以实现持续的过程和产品改进。