News Release
Magna-Power Releases Next-Generation SLx Series 1U Digital Programmable DC Power Supply
septembre 06, 2023 • Flemington, NJ USA
Magna-Power Electronics, a leading manufacturer of programmable DC power supplies and electronic loads in Flemington, New Jersey, released its SLx Series 1U high power density programmable DC power supply, which combines Magna-Power's signature current-fed power processing topology with its state-of-the-art MagnaLINK™ distributed DSP digital control architecture, ushering in a new era for Magna-Power.
At launch, the SLx Series is available with over 30,000 model configurations, spanning voltages up to 1,000 Vdc, currents up to 250 Adc and power levels at 1.5 kW, 2.6 kW, 4 kW, 6 kW, 8 kW and 10 kW. Three-phase input voltages 208 Vac, 240 Vac, 380 Vac, 415 Vac, 440 Vac and 480 Vac are available on all models, while a single-phase input with active power factor correction is additionally available for 1.5 kW and 2.6 kW models. Phase 2 launch of the SLx Series, in development now, will expand voltage ratings up to 10,000 Vdc and current ratings up to 600 Adc.

The SLx Series, builds upon the immense success of Magna-Power's popular 1U SL Series, adding significant new capabilities and features, which includes:

New Communication Interfaces. SLx Series power supplies come standard with Dual USB (front and back) and RS485, supporting full control using SCPI or Modbus commands. The SLx Series launches with full command set support through the following industrial communication options: CANopen (+CAN), EtherCAT (+ECAT), EtherNet/IP (+EIP), LXI TCP/IP Ethernet (+LXI), Modbus-TCP (+MTCP), and PROFINET (+PROF).
Target Diagnostics. The Target Diagnostics feature maps the status LEDs for every major assembly to a rear mounted LED matrix. This LED matrix provides the statuses of each internal assembly, easily allowing users or support teams to understand faults or configuration issues, while keeping products mounted and covers on.
Digital Hybrid Master-Slaving. The SLx Series includes Magna-Power's next-generation digital hybrid master-slaving interface via dual digital MagnaLINK communication ports. With support up to 12 units in a master-slave set, users can easily expand their current capability by adding more units in parallel. A secondary current sense connection is provided, which provides real-time analog current feedback to the master, enabling reliable, high-accuracy measurement aggregation to a single display.
New Front Panel Interface. Prioritizing brightness and reliability, the SLx Series features of a hybrid display with bright green segments for voltage and current output and a multi-line display for power measurement, settings configuration, and status messages. A black-anodized machined aluminum control knob enables precise dialing of control set points, while a 10-digit key and arrow buttons provide digital set point inputs with 16-bit precision.
Hardware Emergency Stop. In addition to the standard Interlock feature, the SLx Series features a separate emergency stop feature that bypasses all logic and processors, creating a hardware-only path to easily interrupt AC power to the SLx Series power supply with a 24V signal, providing a full hardware shutdown.
MagnaCTRL Software Platform. Magna-Power's brand new MagnaCTRL Software comes standard with all SLx Series products, providing a modern, feature-rich, multi-product control platform. MagnaCTRL provides various Panels to allow for computer-based control, monitoring, sequencing, and firmware update capabilities.
Configurable User I/O with High-Speed Analog Input. All SLx Series power supplies come standard with a 26-pin D-Sub connector designated as the External User I/O, all referenced to earth ground. This User I/O port provides: 8 Digital Outputs (5V logic), 4 Digital Inputs (5V logic), 4 Analog Outputs (0-10V logic), 4 Analog Inputs (0-10V logic). A dedicated high-speed analog input is also provided, sampled at 2 kHz for near real-time control.
Slew Rate Control and 16-bit Precision with Single-Bit Control.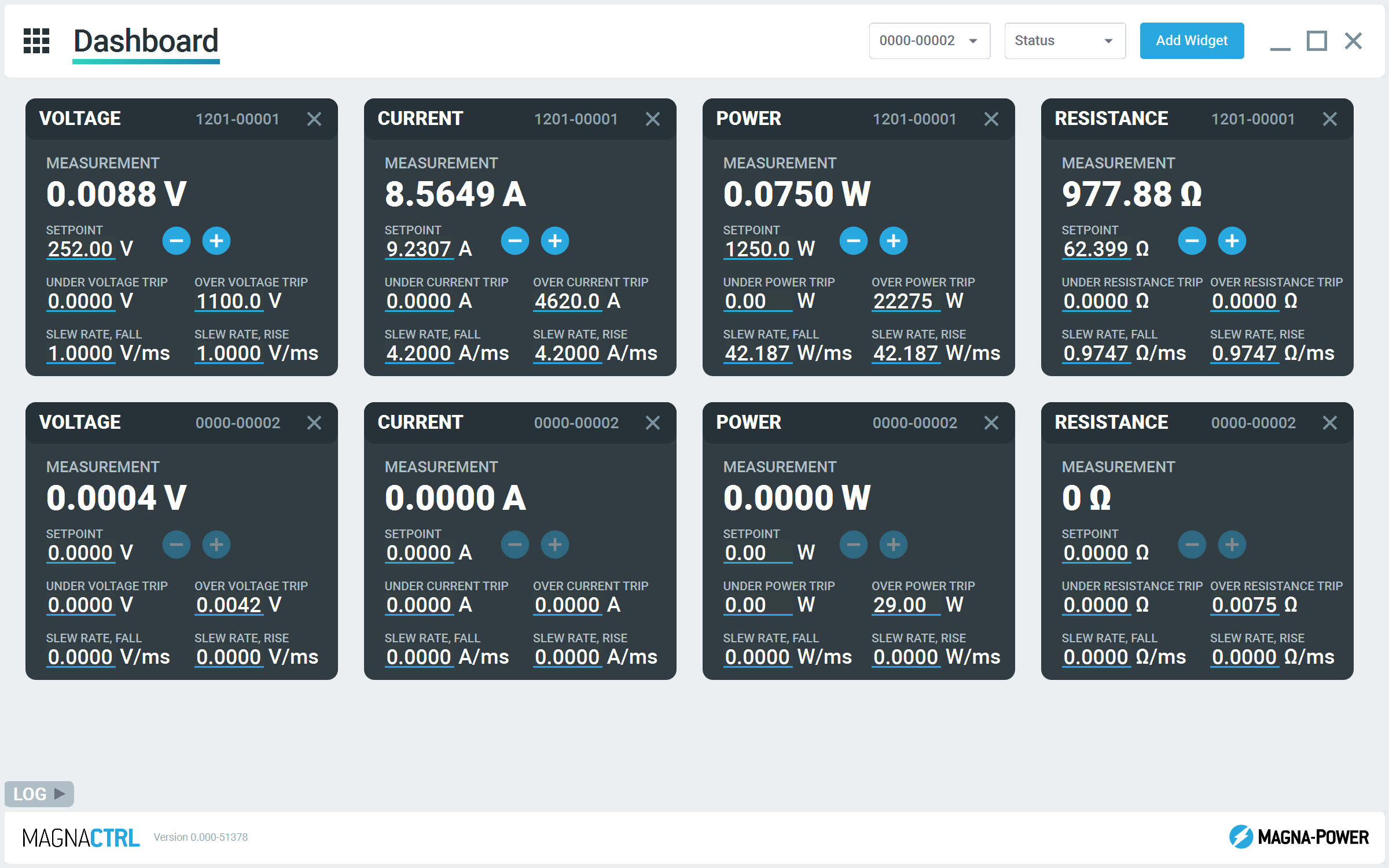 With tight integration between Magna-Power's engineering and manufacturing teams, the SLx Series brings considerable manufacturability and process improvements, including fully automated test and calibration, significant board-size and cable harness reduction, and assembly consolidation. These manufacturing improvements, coupled with Magna-Power's increased investment in vertically integrated USA manufacturing, ensures competitive pricing and lead-time, while also providing a cost-effective upgrade path for Magna-Power's existing customers.
SLx Series models are now shipping. All Magna-Power products are designed and manufactured at the company's vertically integrated headquarters in Flemington, New Jersey USA. The company's products are available directly from Magna-Power in the USA, or through Magna-Power sales offices and distribution network in over 40 countries worldwide.
For more information:
About Magna-Power Electronics
Magna-Power Electronics is a leading manufacturer of high-quality programmable DC power supplies and electronic loads. With a commitment to innovation and excellence, Magna-Power has been serving a diverse range of industries since 1981. The company's products are renowned for their reliability, precision, and cutting-edge technology, making us the trusted choice of engineers, researchers, and professionals worldwide. Visit magna-power.com to explore the complete product lineup and discover how Magna-Power Electronics can power your innovation.
Stay connected and informed.
Subscribe to receive emails—no more than once per month—with new technical articles, product releases and factory updates from Magna-Power.
Have any questions or feedback?
We'd love to hear from you.