High-Power Programmierbare DC Power Products
Zehntausende von Unternehmen - vom Start-up bis zum Fortune 500 - kombinieren robuste Stromverarbeitungstopologien mit modernster vertikal integrierter Fertigung in den USA und verlassen sich auf die hochwertigen programmierbaren Gleichstromprodukte von Magna-Power, um ihre Innovationen voranzutreiben.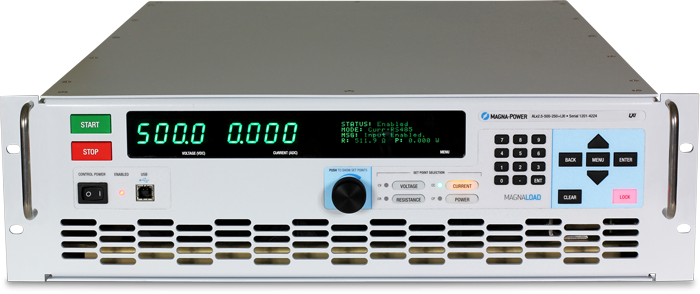 Einheitliche Produktplattformen
Konsistente Steuerelemente, Leistung und Schnittstellen
Programmierbare DC-Stromversorgungen
Magna-Power nutzt die robuste, stromgespeiste Stromverarbeitungstopologie mit über 500 Modellen von 1,5 kW bis 3.000 kW + und zahlreiche Standardoptionen und bietet eines der branchenweit breitesten Sortimente an programmierbaren Gleichstromversorgungen.
Über 10.000 verfügbare Produktkonfigurationen
Bauzeiten ab 2-3 Wochen
SCPI-Befehls-API, NI LabVIEW-Treiber, IVI-Treiber
Isolierter 37-poliger externer Benutzer-E / A-Standard für einfache SPS-Integration
Hochspannungs- und Hochstrommodelle erhältlich
Lasten Elektronische Gleichspannungs
Magna-Power bietet sowohl konventionelle lineare Topologie als auch patentierte aktive Widerstandstechnologie und definiert einen neuen Kostenpunkt für elektronische Hochleistungslasten von 1,25 kW bis 20 kW +. Es bietet einzigartige Steuermodi und einen äußerst zuverlässigen Dauerbetrieb mit voller Leistung bis zu 50 °C.
MagnaLINK ™ verteilte DSP-Steuerungsarchitektur
Modelle bis zu 1.000 VDC und bis zu 4.800 Adc
16-Bit-Präzision mit bis zu 6 verschiedenen Steuermodi
Luft- oder wassergekühlte Hochleistungsmodelle erhältlich
SCPI-Befehls-API, LabVIEW-Treiber, IVI-Treiber
Warum Magna-Power
Technologie- und zuverlässigkeitsorientierter Ansatz für das Design von Leistungselektronik
Einheitliche Produktplattformen
Die sorgfältigen Design-Steuerelemente von Magna-Power ermöglichen konsistente Firmware, Computerbefehle, Funktionen, Optionen und Benutzer-E / A für alle Produktfamilien, sodass Sie weniger Zeit damit verbringen müssen, Software und Steuerelemente anzupassen, wenn sich die Produktanforderungen ändern.
Expansive Programmierunterstützung
Beginnen Sie mit der schnellen Programmierung von Magna-Power-Produkten mit der mitgelieferten Magna-Power-Software, den mitgelieferten NI LabVIEW- und IVI-Treibern oder einer umfangreichen Bibliothek unterstützter SCPI-Befehle in der Sprache Ihrer Wahl, wie unserem Favoriten: Python.
Schnelle Bauzeiten
Mit der vollständigen Kontrolle des Herstellungsprozesses unter einem Dach und erheblichen Investitionen in gelagerte gemeinsame Baugruppen bietet Magna-Power branchenführende Sonderanfertigungszeiten von 2-3 Wochen für die gängigsten Produkte.
Flexible Optionen und Add-Ons
Globale Reichweite
Weltweites Netzwerk über 40 Jahre aufgebaut
Magna-Power bietet erstklassigen Support für programmierbare Hochleistungs-Gleichstromversorgungen und Anwendungen für elektronische Lasten. Mit Vertriebsbüros in Großbritannien und China, Partnern in über 45 Ländern und einem Netzwerk von 40 nordamerikanischen Vertretern hat Magna-Power seit 1981 sein erstklassiges Netzwerk an Vertriebs-, Service- und Integrationskanälen kontinuierlich ausgebaut und sein Wachstum ausgebaut Produktreihe.
Watt von programmierbaren DC-Power-Produkten ausgeliefert
Kunden weltweit mit Magna-Power-Produkten
Länder mit Vertrieb und Support von Magna-Power-Produkten
Bauzeit für die meisten Produkte von 1,25 kW bis 25 kW
Marcelo S.
Colorado School of Mines
I have two Magna-Power supplies in my lab. I love them: reliable, precise, wonderful equipment.
Matt H.
The George Washington University
I'm so used to some of our other equipment taking a month or two to get sorted out, so it's a nice change of pace when this gets done so quickly.
Mason S.
GE Aviation
We were very impressed by what we saw while visiting yesterday ... the organization and cleanliness of your facility was an apparent statement to back up the emphasis on quality products.
Paul K.
Lockheed Martin
To do what Magna-Power does with one power supply, we would've needed three from the other guys. On top of that, Magna-Power was less expensive, so the bang for buck and size was excellent.
Tom S.
QinetiQ
Below is the scope capture from the XR connected directly in place of the Sorensen. We were amazed! ... I am impressed with the build quality of the unit, chalk one up for Made in the USA!
Hanan F.
Alencon Systems
Your service is really fantastic. Beyond just being a vendor of great products we use every day, we really look up to Magna-Power as the gold standard of a domestic power electronics manufacturer and we are striving to emulate your commitment to operational excellence and commercial success in our own business.
Adam S.
Blue Robotics
Thank you and your team for your excellent service and providing an outstanding product. All my questions were answered thoughtfully, and we had full confidence in our purchase. The power supply has been performing excellently, handling all the loads we've been throwing at it without so much as a hiccup.
Amin S.
University of Houston
High quality products from Magna-Power! I worked with different manufacturer's power supplies and faced different problems (e.g. EMI noise), but no problem with Magna-Power.
Vertikal integrierte USA Konstruktion und Fertigung
Magna-Power Electronics-Produkte werden stolz in den USA am vertikal integrierten Hauptsitz des Unternehmens in Flemington, New Jersey, hergestellt. Alle Engineering-, Fertigungs- und Produktwartungen in Nordamerika werden am Hauptsitz des Unternehmens durchgeführt.

Magna-Power Electronics nutzt die vertikale Integration in seinen Herstellungsprozess, um die Produktqualität, die Kosten und die Vorlaufzeit vollständig zu kontrollieren. Durch die vertikale Integration kann Magna-Power eine sehr breite Palette hochentwickelter elektronischer Produkte herstellen und gleichzeitig die branchenführenden Vorlaufzeiten beibehalten. Die Teams für Wohnungsbau und Fertigung in derselben Einrichtung erzwingen eine enge Zusammenarbeit zwischen den beiden Teams, um kontinuierliche Prozess- und Produktverbesserungen zu erzielen.