News Release
Magna-Power Selected by Los Alamos National Laboratory to Provide DC Power Supplies for Scorpius Particle Accelerator
七月 25, 2023 • Flemington, NJ USA
Magna-Power Electronics, a manufacturer of programmable DC power supplies and electronic loads in Flemington, New Jersey, has been selected by Los Alamos National Laboratory to provide unique-capability DC power supplies to energize a range of high-power electromagnets on a new underground particle accelerator called Scorpius. Magna-Power will deliver over 125 of its high-power water-cooled TS Series programmable DC power supplies over the next two years, which will be used on various parts of the Advanced Sources and Detectors Project (nicknamed "Scorpius"), including the injection, acceleration and downstream transport areas.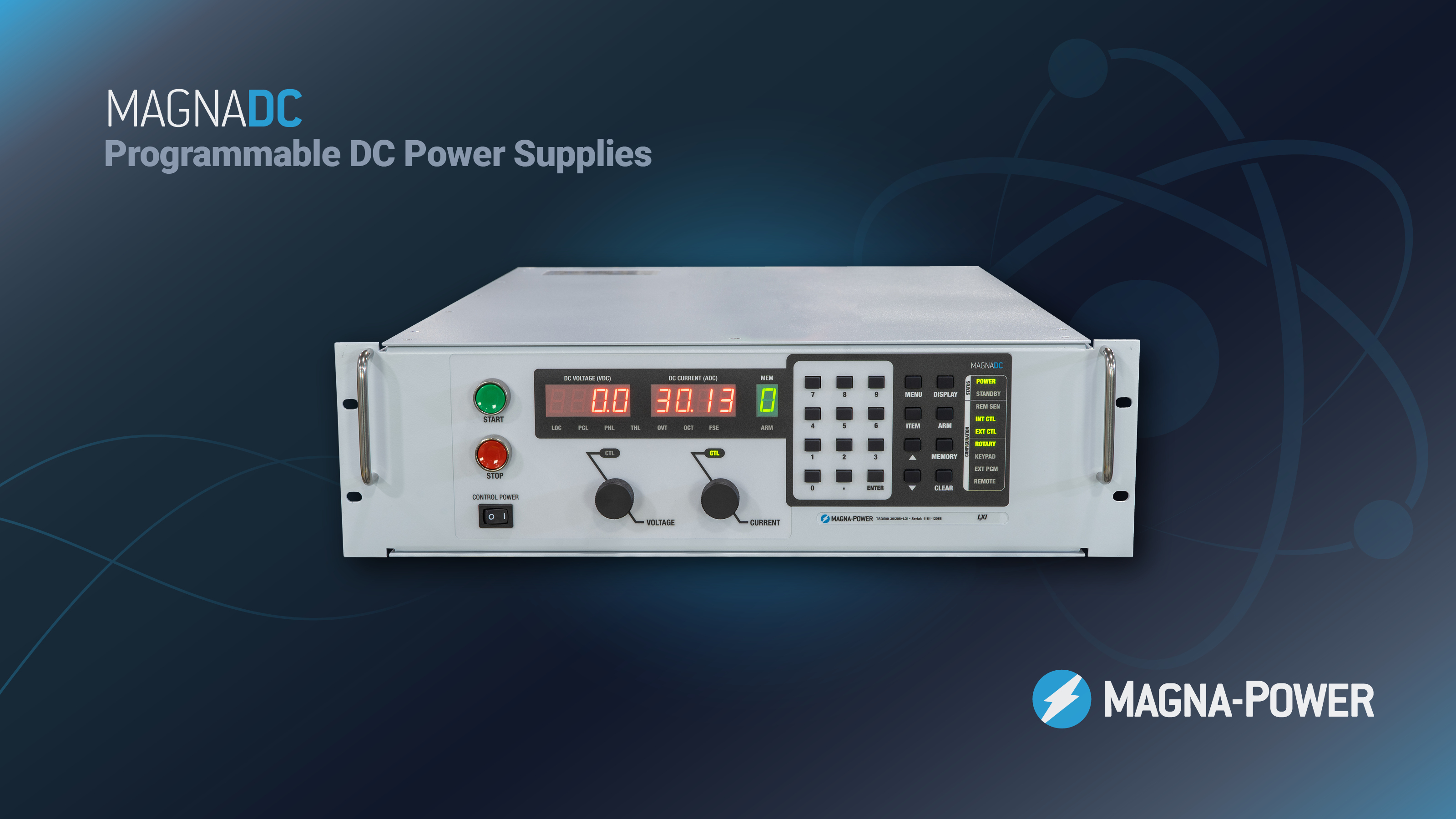 Scorpius, an over 300-foot-long linear induction accelerator, is part of the Enhanced Capabilities for Subcritical Experiments (ECSE) facility located approximately 1,000 feet underground at the U.S. Department of Energy's Nevada National Security Site. Subcritical experiments provide information to support the stewardship of the national nuclear weapons stockpile without the need for creating sustained nuclear chain reactions. Somewhat similar to a medical x-ray machine, Scorpius is designed to generate a high-energy electron beam and convert the beam energy into x-rays. The x-rays will then be used to create high-speed, high-fidelity x-ray images of subcritical experiments as they progress. The images, in conjunction with computer analysis, enhance the capabilities of scientists, engineers and others to maintain the security provided by the nuclear stockpile.
Construction of Scorpius is expected to be completed in 2027, with an expected 30-year lifecycle.
"We take special pride in supporting programs, like Scorpius, which are essential to our national security" said Adam Pitel, Chief Executive Officer for Magna-Power Electronics. "We are honored for our products to be part of Scorpius, an engineering marvel that combines state-of-the-art technology from three national laboratories, providing an unmatched experimental platform for some our nation's top scientists."
Like all Magna-Power products, those selected for the Scorpius accelerator are designed and manufactured in the USA at Magna-Power's vertically integrated headquarters in Flemington, New Jersey. Standard options, like Magna-Power's water-cooling feature, provide an integrated heat exchanger with specially wound magnetic components that utilize copper pipe to directly cool the transformer core. In addition, Magna-Power engineered several modifications to its standard product to meet Scorpius underground facility interface requirements (e.g., cooling water subsystem interface and DC bus bar compatibility) and augmented safety and long-term reliability requirements (e.g., hardening against potential radiation exposure).
Jack Gioia, Scorpius Project Electrical Engineering Manager, has stated that "Magna-Power's willingness to work with various members of my technical staff to meet the unique design and performance requirements required by this nuclear project is a keystone building block for the success of Scorpius."
About Magna-Power Electronics
Magna-Power Electronics designs and manufactures robust programmable power products in the USA that set industry standards for quality, size, and control. Its products can be found around the world feeding power to national laboratories, universities, and a wide range of industrial sites. The company's experience in power electronics is reflected in its 1.25 kW to 3,000 kW+ product line, quality service, and reputation for excellence.
Stay connected and informed.
Subscribe to receive emails—no more than once per month—with new technical articles, product releases and factory updates from Magna-Power.
Have any questions or feedback?
We'd love to hear from you.