News Release
Magna-Power Designated a 2021 Great Place to Work-Certified™ Company in Flemington, New Jersey
gennaio 11, 2021 • Flemington, NJ USA
Magna-Power Electronics, a New Jersey high-tech electronics manufacturer of programmable DC power products, has announced that it is Great Place to Work-Certified™, after independently collected employee feedback was benchmarked against other small and medium workplaces in the US.
"Magna-Power provides each employee the opportunity to be innovative and help our company be productive, grow and connect with one another," said Ryan Roberts, Director of Human Resources at Magna-Power. "There are no shortcuts to being a great company and we are proud to have created a great workplace that will help us continue to thrive together and as a company in the future."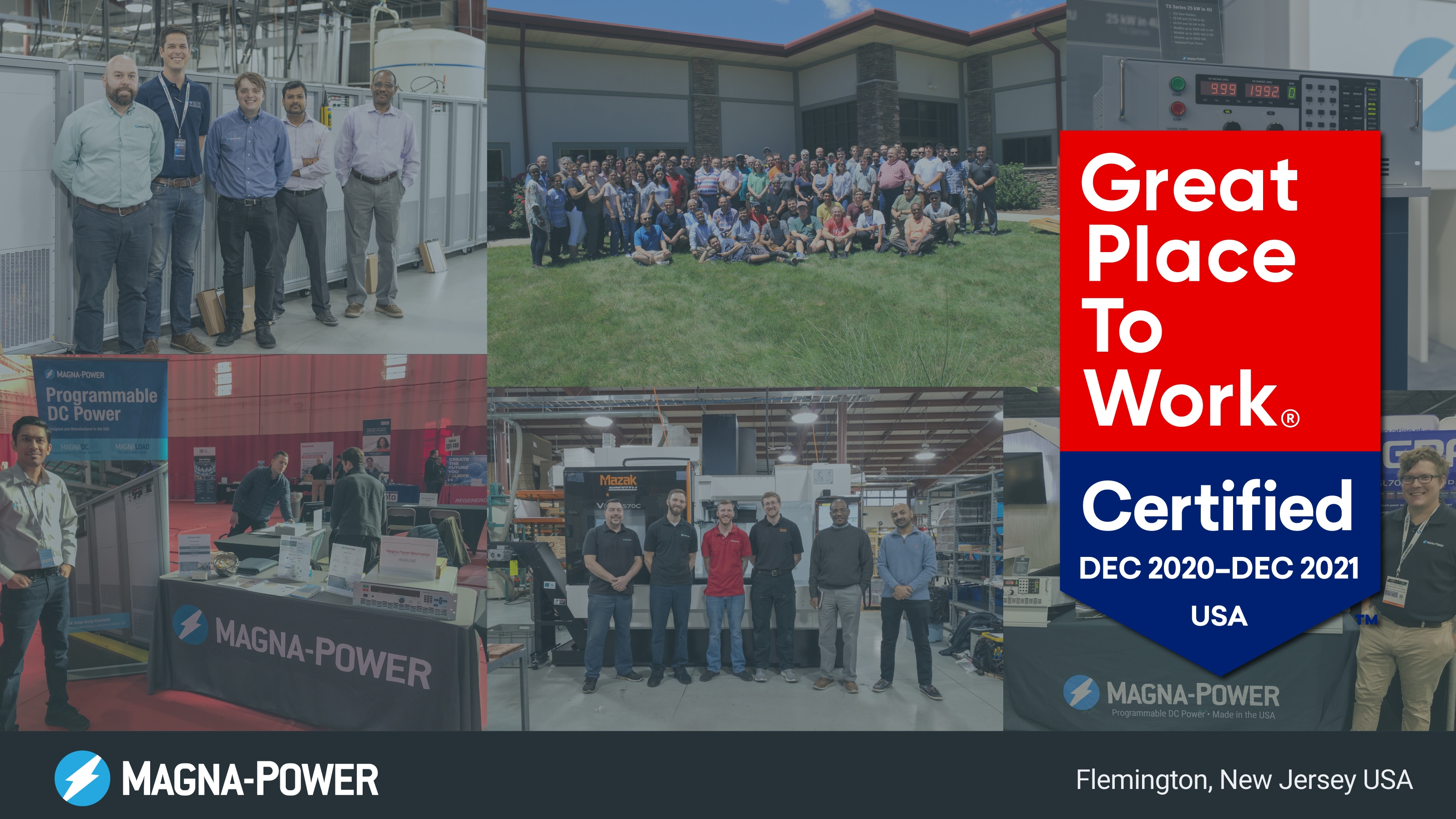 Magna-Power designs and manufactures a broad range of programmable DC power supplies and electronic loads, used in diverse applications such as: electric vehicle development, particle acceleration, semiconductor fabrication, research at universities and national laboratories, space exploration, among many others. In recent years, the company has focused on vertically integrating its operations in Flemington, New Jersey, with significant investment in expanding its engineering team, adding new machinery, and manufacturing process automation.
The ranking considered feedback representing more than 4.9 million employees working at Great Place to Work-Certified organizations. Great Place to Work, a global people analytics and consulting firm, evaluated more than 60 elements of team members' experience on the job. These elements included the extent to which employees trust leaders, the respect with which people are treated, the fairness of workplace decisions, and how much camaraderie there is among the team.
This is the first year Magna-Power participated in the survey, with the majority of employees who completed the survey saying that it is a great place to work. Magna-Power employees also noted that they feel valued, their work has special meaning, and they appreciate the organizations' quality-first, cleanly manufacturing atmosphere.
"We congratulate Magna-Power on its Certification," said Sarah Lewis-Kulin, Vice President of Best Workplace List Research at Great Place to Work. "Organizations that earn their employees' trust create great workplace cultures that deliver outstanding business results."
Magna-Power's operations are housed in a custom-designed state-of-the-art 73,500 sq-ft facility in Flemington, New Jersey. The company offers a competitive benefits package, which includes: health, dental, vision, supplemental and life insurance, a 401k retirement plan with company match, generous paid time off policies, tuition reimbursement for ongoing education among many others.
Read more:
About Magna-Power Electronics
Magna-Power Electronics designs and manufactures robust programmable power products in the USA that set industry standards for quality, size, and control. Its products can be found around the world feeding power to national laboratories, universities, and a wide range of industrial sites. The company's experience in power electronics is reflected in its 1.25 kW to 2000 kW+ product line, quality service, and reputation for excellence.
About Great Place to Work
Great Place to Work® is the global authority on workplace culture. Since 1992, they have surveyed more than 100 million employees around the world and used those deep insights to define what makes a great workplace: trust. Great Place to Work helps organizations quantify their culture and produce better business results by creating a high-trust work experience for all employees. Emprising®, their culture management platform, empowers leaders with the surveys, real-time reporting, and insights they need to make data-driven people decisions. Their unparalleled benchmark data is used to recognize Great Place to Work-Certified™ companies and the Best Workplaces™ in the US and more than 60 countries, including the 100 Best Companies to Work For® and World's Best list published annually in Fortune. Everything they do is driven by the mission to build a better world by helping every organization become a Great Place to Work For All™.
Stay connected and informed.
Subscribe to receive emails—no more than once per month—with new technical articles, product releases and factory updates from Magna-Power.
Have any questions or feedback?
We'd love to hear from you.