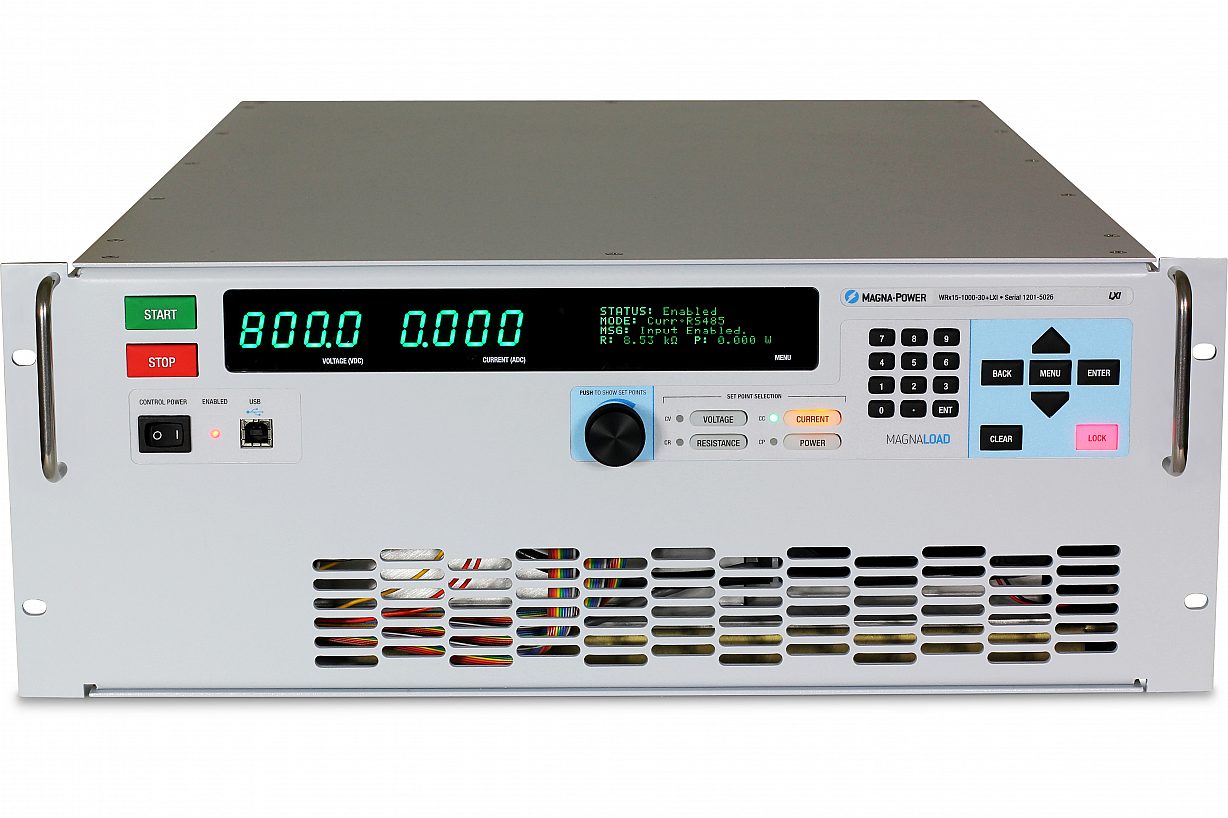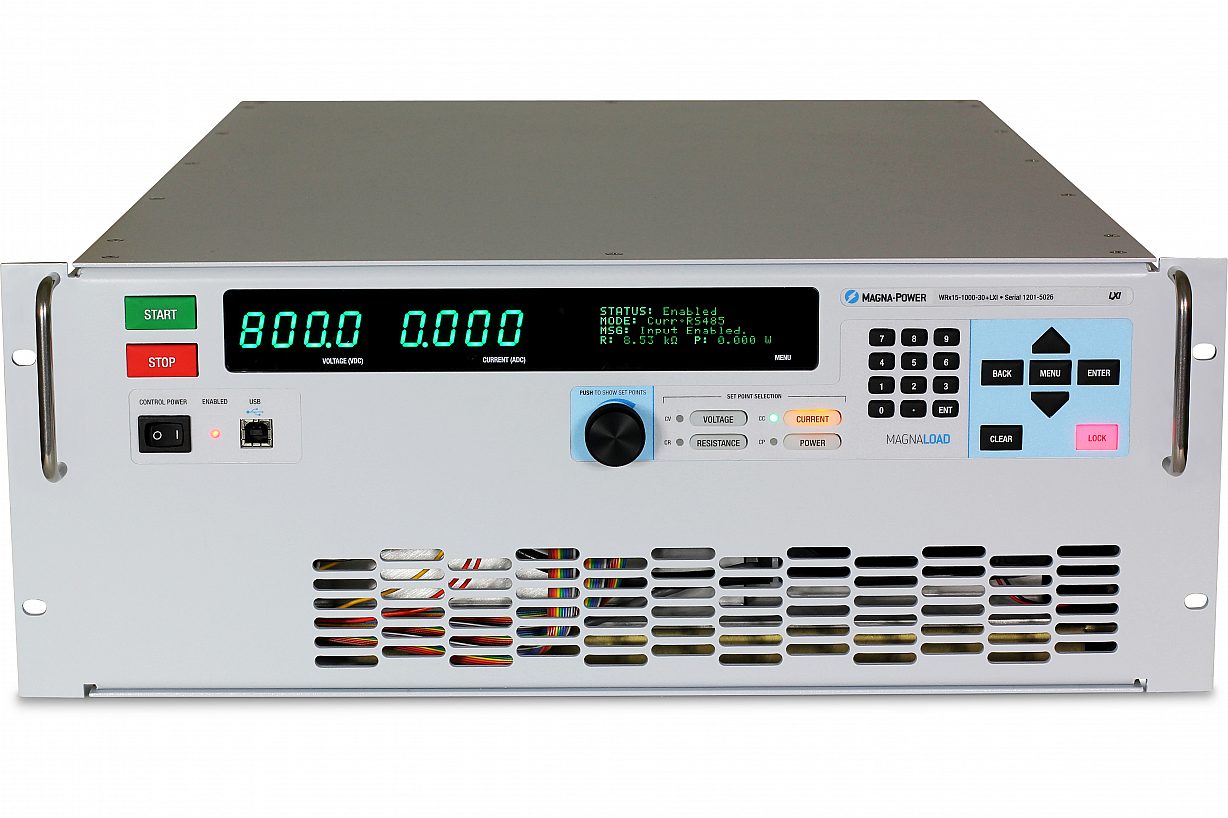 Key Facts
3 models

12.5 kW power level
Up to 1000 Vdc input voltage
Up to 130 Adc input current
MagnaLINK™ Distributed DSP Architecture
16-bit resolution
SCPI programming API
CE Mark
Designed and manufactured in the USA
Models up to 1000 Vdc with Multiple Control Modes for Application Flexibility
Water-Cooled High-Power Electronic Load Using Active Resistance
The WRx Series MagnaLOAD utilizes Magna-Power's patented Active Resistance Technology (US Patent 9,429,629) in combination with the company's internally manufactured microchannel water-cooled heatsinks to address high power DC electronic loading applications where exhaust heat control is essential. The WRx Series greatly increases power density compared air-cooled alternatives. An integrated solenoid controls the flow of water to avoid condensation. Full power can be achieved using conventional water, with water inlet temperatures up to 25°C.
Magna-Power's Active Resistance Technology utilizes a switched binary matrix of resistances and MOSFET network, combined with Magna-Power's new MagnaLINK™ distributed DSP architecture, the WRx Series delivers the same features and performance as traditional electronic loads, at a fraction of the price. In addition to the 16-bit precision voltage, current, resistance, and power control modes, the WRx Series also provides a rheostat control mode, allowing direct control of the product's internal resistance network.
MagnaLINK™ Distributed Digital Control
Magna-Power's MagnaLINK™ technology provides distributed Texas Instrument DSP control across power processing stages inside the MagnaLOAD DC electronic load. This technology follows a significant internal development cycle from Magna-Power to provide a unified digital control platform across its electronic loads and power supplies, featuring fully digital control loops, adjustable control gains, programmable slew rates, digital master-slaving, and many new advanced control technologies.
All ARx Series MagnaLOADs come with the following interfaces:
Front panel knob, keypad, and menu system
25-pin configurable external user I/O, including a high-speed analog input
Front and rear USB and rear RS-485 or optional Ethernet and IEEE-4888 GPIB
When in standby or diagnostic fault, the DC input bus is disconnected via a switching device.
Finally, with a dedicated +5V interlock input pin and included +5V reference on all models, external emergency stop systems can be easily integrated using an external contact.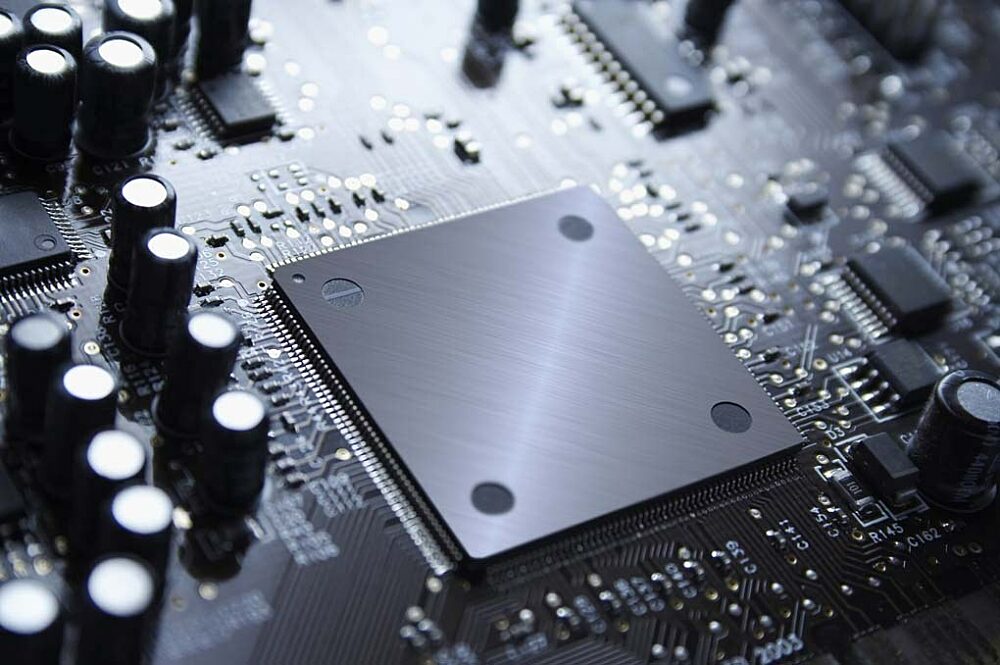 Six Flexible Operating Modes
To accommodate a variety of DC sources, all ARx Series MagnaLOADs come with many configurable control modes, including:
Voltage Mode
Current Mode
Power Mode
Resistance Mode
Shunt Regulator Mode
Rheostat
Preference for DC regulation is given to the parameter in the selected mode within the programmed set-points. Using the MagnaLOAD's set-points and trip settings, the product can configured to either trip with a fault when a limit is exceeded or to cross-over into a different regulation state.
Shunt Regulator Mode turns the MagnaLOAD into a high-speed smart braking resistor, engaging the DC input only when a specified voltage and exceeded by a user-defined percentage, while limiting the shunt current to a programmed set-point.
Configurable External User I/O
Beyond the front panel and computer controls, all MagnaLOADs come standard with a 25-pin D-Sub connector designated as the External User I/O. This connector provides:
8 Digital Outputs
4 Digital Inputs
4 Analog Outputs
4 Analog Inputs
All the analog-digital I/O ports are configurable, allowing the user to select which parameters they want to control and monitor. This configurable I/O scheme reduces complexity, eases PLC integrationand allows control parameters from various interfaces simultaneously.
The MagnaLOAD's configurable analog inputs provide 0-10V programming from PLCs and external D/A converters.
MagnaWEB Software Interface
Magna-Power's next generation software interface, MagnaWEB, provides intuitive and user-friendly web-browser based controls for programming and measurement read-back of the MagnaLOAD's activity. Virtually all of the MagnaLOAD's available functions can be controlled and monitored from the MagnaWEB software over any of product's installed communication interfaces.
MagnaWEB uses a server-client software model to provide access to the MagnaLOAD from nearly any device and operating system. Install and run the MagnaWEB software locally on Windows then, using a web browser, access the server connected to the MagnaLOAD from a variety of devices including other desktops, tablets or smart-phones.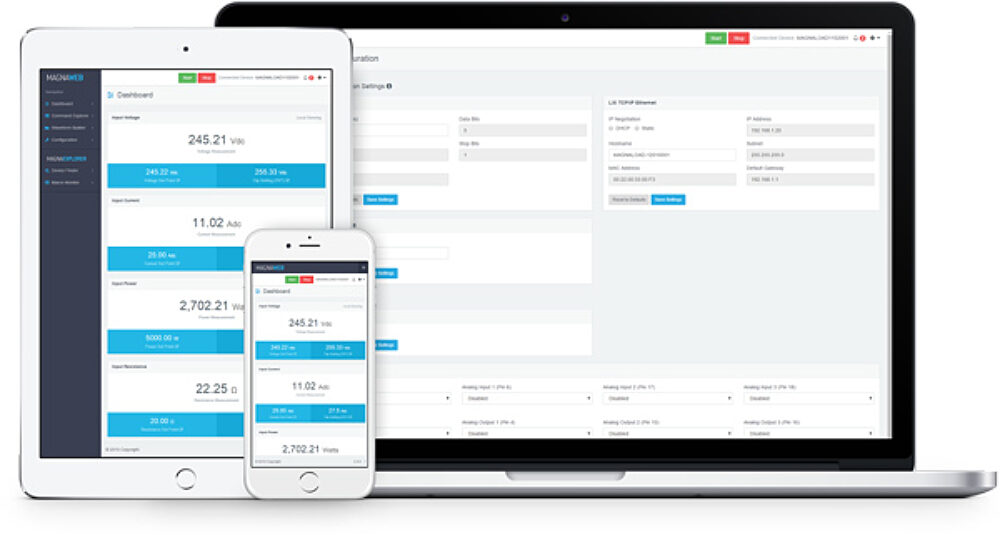 Active Resistance Technology: A New Era for Electronic Loads
The ARx Series utilizes Active Resistance Technology to deliver performance consistent with conventional electronic loads, but at a fraction of the price and with the ability to directly switch passive resistors on-the-fly.
In Magna-Power's Active Resistive Technology, switched resistors are placed in series with MOSFETs. High-performance DSPs simulatenously control both dissipation elements in harmony. Assuming the power across the shunt resistor is insignificant, the power dissipated in load resistor R1 is IL x VR1 and the power dissipated in MOSFET Q1 is IL x VQ1. The resistors can be operated at higher temperatures than the MOSFETs, simplifying cooling requirements of the passive elements. Keeping VQ1 small and VR1 large lowers system costs in comparison with purely semiconductor electronic loads. Adjusting the value of resistor R1 is accomplished with a binary switching matrix. Finally, keeping the resistor switching increments small and over a wide range maintains the smallest voltages across the linear modules and over the widest operating range.
The advantage of resistive loads are reliability and cost per watt for dissipating power, while the advantage of MOSFET loads is speed of performance and the ability to dissipate power over a wide operating range. Active Resistive Technology blends switched resistance with MOSFETs to significantly lower the product's cost, add new control modes, while still delivering 16-bit precision and high-accuracy performance
Front Panel - Standard
Front Panel - Blank Panel (+BP) Option
1
START: Enables the DC input bus
STOP: Disables the DC input bus
2
Voltage measurement display
3
Current measurement display
4
4-line character display featuring a menu system, operating status and modes, product messages with diagnostic codes, resistance measurement display, and power measurement display
5
Control power switch, energizes the control circuits without engaging DC bus
6
LED indicator that the DC input is enabled
7
Full control (host) front panel USB port
8
Clean air intake, with integrated fans
9
Aluminum digital encoder knob for programming set-points
10
LED indicator of the MagnaLOAD's present regulation state, which can include: constant voltage (CV), constant current (CC), constant power (CP), or constant resistance (CR)
11
Selector buttons to choose which set-point the digital encoder knob and digital keypad buttons will modify
12
MENU: Enters the menu system on the 4-line display
BACK: Moves back one level in the menu
ENTER: Selects the highlighted menu item
CLEAR: Removes the product from a faulted state
LOCK: Locks the front panel, with password protection available
Model Ordering Guide
There are 3 different models in the WRx Series spanning power levels: 12.5 kW.
Use the following ordering guide and models chart to define the best model for your application.
WRx Series Models
There are 3 different models in the WRx Series spanning power levels: 12.5 kW. To determine the appropriate model:
Select the desired Max Voltage (Vdc) from the left-most column.
Select the desired Max Current (Adc) from the same row that contains your desired Max Voltage.
Construct your model number according to the model ordering guide.
| Model | Maximum Power | Maximum Voltage | Maximum Current | Package Type | Minimum Voltage |
| --- | --- | --- | --- | --- | --- |
| WRx12.5-200-130/UI | 12.5 kW | 200 Vdc | 130 Adc | Rack-mount | 2.5 Vdc |
| WRx12.5-500-52/UI | 12.5 kW | 500 Vdc | 52 Adc | Rack-mount | 3.0 Vdc |
| WRx12.5-1000-26/UI | 12.5 kW | 1000 Vdc | 26 Adc | Rack-mount | 5.0 Vdc |
Specifications
The following specifications are subject to change without notice. Unless otherwise noted, all specifications measured at the product's maximum ratings.
AC Input Specifications
Specification
Value
AC Input Voltage


1Φ, 2-wire + ground

85 to 265 Vac (UI: Universal Input)
AC Input Frequency
50-60 Hz
AC Input Isolation
±1500 Vac, maximum input voltage to ground
Programming Interface Specifications
Specification
Value
Front Panel Programming
Aluminum rotary knob with encoder, keypad, or up-down arrow for single bit control
Computer Interfaces


Standard

USB Host (Front): Type B
USB Host (Rear): Type B
RS485 (Rear): RJ-45
MagnaLINK™: RJ-25 x 2
Computer Interfaces


Optional

LXI TCP/IP Ethernet (Rear): RJ-45
GPIB (Rear): IEEE-488
External User I/O Port


Analog and Digital Programming

25-pin D-sub DB-25, female
Referenced to Earth ground; isolated from the DC input
See User Manual for pin layout
Programming Specifications
Specification
Value
Resolution


All Modes

16-bit, 0.0015%
Accuracy


Programming and Measurement

Voltage: ±0.1% of full scale voltage rating
Current: ±0.2% of full scale current rating
Power: ±0.3% of full scale power rating
Resistance: ±0.3% of full scale resistance rating
Rise/Fall Time


Maximum

Voltage Mode: 100 ms, 10% to 90% full scale voltage rating
Current Mode: 2 ms, 10% to 90% full scale current rating
Power Mode: 100 ms, 10% to 90% full scale power rating
Resistance Mode: 40 ms, 10% to 90% full scale resistance rating
Trip Settings Range
Over Voltage: 10% to 110% of full scale voltage rating
Under Voltage: 0% to 110% of full scale voltage rating
Over Current: 10% to 110% of full scale current rating
Over Power: 10% to 110% of full scale power rating
External User I/O Specifications
Specification
Value
Digital I/O
Digital Input Voltage: 5V
Digital Input Impedance: 10 kΩ
Digital Monitoring Voltage: 5V, 32 mA capacity
Digital Reference Voltage: 5V, 20 mA capacity
Analog I/O
Analog Sampling Rate: 2 kHz
Analog Programming Voltage: 0-10 V
Analog Programming Resolution: 12-bit, 0.025%
Analog Monitoring Voltage: 0-10 V, 3 mA capacity
Analog Monitoring Impedance: 0.005 Ω
Analog Monitoring Accuracy: 0.05% of full scale
Analog Reference Voltage: 10 V, 20 mA capacity
Physical Specifications
Specification
Value
Racking Standard


12.5 kW Models

EIA-310
Rear Support Rails


12.5 kW Models

Included
Size and Weight


12.5 kW Models

4U
7" H x 24" W x 19" D (17.8 x 60.9 x 48.2 cm)
165 lbs (74.8 kg)
Environmental Specifications

| Specification | Value |
| --- | --- |
| Ambient Operating Temperature | 0°C to 50°C |
| Storage Temperature | -25°C to +85°C |
| Humidity | Relative humidity up to 95% non-condensing |
| Air Flow | Front air inlet, rear exhaust |
Water Cooling Specifications

| Specification | Value |
| --- | --- |
| Water Connection Provided | 12.5 kW Models: 1/2" NPT male inlet and outlet |
| Maximum Inlet Temperature | 25°C |
| Maximum Inlet Pressure | 80 PSI |
| Minimum Flow Rate | 12.5 kW Models: 1.5 GPM |
Regulatory Compliance

| Specification | Value |
| --- | --- |
| EMC | Complies with European EMC Directive for test and measurement products |
| Safety | Complies with EN61010-1 |
| CE Mark | Yes |
| RoHS Compliant | Yes |
Dimensional Diagrams
The following are vectorized diagrams for the WRx Series. Refer to the Downloads section for downloadable drawings.
Integrated Options
The following are the standard integrated options available for the WRx Series. Refer to the Model Ordering Guide for details on how the option code is specified in the full model number.
Software Add-ons
The WRx Series comes standard with control software and drivers available under Downloads. The following are additional software add-ons available.
Accessories
The following is a list of available external accessories for the WRx Series.
Downloads
The following downloads are for the Serie WRx: